MIDI International Conference offers a global forum for presenting design tools, methods, techniques, solutions and novel approaches for integrating people and intelligent technologies. The conference is a quality-oriented event with a limited number of participants in order to stimulate lively, thought-provoking discussions, and to provide conditions for establishing memorable personal contact. In 2020 the scope of the MIDI Conference has been extended to interactions taking place between humans and "smart" systems based on various types of machine intelligence.
Since 2012, the MIDI Conference has been known for giving participants spark inspirations for their own projects and igniting their research ideas. In 2022 the MIDI Conference will be held as a virtual event. The organisers decided that the participation in the conference will be available free of charge.
Topics of interest
Machine Intelligence
intelligent service systems and semantic computing
analytics and deep learning
intelligent vehicles and autonomous cars
smart industrial automation and manufacturing
intelligent safety systems and risk management
intelligent decision support systems
brain-inspired modelling and simulation
intelligent problem solving
cognitively-based systems integration
modelling and optimisation of intelligent systems
intelligent software and systems engineering
complex human-systems integration
human-machine teaming and collaboration
intelligent interfaces for human-artificial systems
complex evolutionary and adaptive cognitive systems
biological and social inspirations of human decision-making
Digital Interaction
usability and user experience with artificial cognitive systems
interactive multimedia and multimodal interaction with artificial cognitive systems
novel interaction techniques, intelligent voice interfaces, interactive multimedia
human-artificial systems collaboration
ubiquitous, multimodal, pervasive and mobile interaction, wearable computing
privacy, security and trust for artificial intelligence systems
novel information visualisation and presentation techniques
hybrid human-artificial systems centred design
virtual humans and virtual worlds: augmented/virtual reality
understanding people and interactions with "smart" systems: theory, concepts, models and methods.
If you are not sure, if your topic fits, please contact the organizers Contact.
Publication and indexation
All papers submitted will be peer-reviewed by at least three independent referees from the MIDI program committee. All submissions should be made through the MIDI submission website.
Papers sent to the conference can be full papers (6-8 pages long in LNCS format) or short papers (4-6 pages long). Full papers will be presented as presentations, and short papers can be presented as posters or presentations, depending on the decision of the conference organisers and authors.
Submissions must be original and should not have been published previously or be under consideration for publication while being evaluated for this conference.
The conference proceedings will be published in cooperation with Springer in the Lecture Notes in Networks and Systems Series. The books of this series are indexed by SCOPUS, INSPEC, WTI Frankfurt eG, zbMATH, SCImago and books published in the series are submitted for consideration in Web of Science.
For inclusion in the conference proceedings, at least one unique registration per paper or poster is required.
All accepted papers will be published.
Open access for proceedings book
This year the proceedings of the MIDI conference will be published in open access formula (Licence CC- BY 4.0), which will greatly improve visibility of your research in the scientific community. According to data from Springer Nature, open access books have 2.4 times more citations, 10 times more downloads, and 10 times more online mentions than non-open access books.
The proceedings will be published around June 2023.
Best Paper Award!
This year National Information Processing Institute and Polish-Japanese Academy of Information Technology together funded the Professor Krzysztof Marasek Best Paper award that will be awarded to TWO papers, in the amount of 500 EUR for each awarded paper!
Publication in Sensors Special Issue
Selected submissions will be invited to be published in Sensors.
Articles submitted to Sensors must be at least 50% longer than those submitted to MIDI 2022.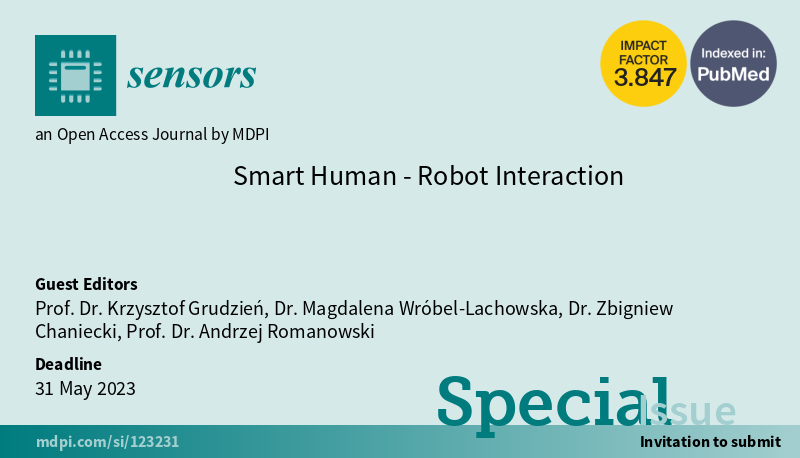 No Registration Fee
Conference will be available free of charge, both for presenting and non-presenting authors.
Important dates
Paper submission: 16 May – 15 September, 15 October, 2022 – extended deadline!
Acceptance decision: 10 October, 16 November, 2022
Camera-ready: 23 November, 28 November, 2022
Conference dates: 12 – 15 December, 2022